https://www.youtube.com/watch?v=nCa_0dIMq6k
Socialising and chatting with other students
Students For Dinner
Hey student, would you like to spend an evening eating and chatting with other students you don't know yet? Then join Students For Dinner and organise a dinner party or slide in.
To join, create a free account in the special Students For Dinner group of our platform. Confirm your email address and fill your profile page with a short biography, your dining preferences and other things that matter to you at an Eet Mee dinner. You can participate alone or with housemates or friends. You can host guests at your dining table as a diner as well as join as a guest. You can do both, of course, and as often as you like. Have you saved your profile? Then you are ready to join.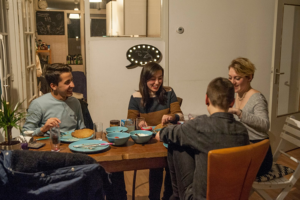 Host
Would you like to host a dinner party? Choose a dinner date, the number of guests and which language you want to speak. Would you like to cook together, share the costs or organise a 'bring your own' dinner? Once you have indicated your preferences, put your dinner party online. You choose who you will eventually invite from the applications. After that will you receive their contact details and be able to arrange further details with your guests.
Guest
Would you like to join a fun dinner party as a guest? After you have completed your profile, you can respond to dinners online. Once the application deadline has passed, you will be notified whether you are invited. If so, you will receive the contact details and you can make further arrangements.
Wellbeing Week Utrecht University 20 November to 1 December 2023
Do you study in Utrecht? Give your social network a boost and organise a fun dinner during Wellbeing Week. You will also have the chance to win a to cookbook.
Wouldn't you rather be a guest? Then check the offer regularly and sign up quickly for one of the dinners online.
You can also sign up on the platform for our special Bring Your Own – Dinner on 22 November in Parnassos. The perfect way to meet new students and have a surprising evening. Do you want to join, alone or with friends? Great! Just send an email to info@eetmee.nl with your name/names and your mobile number and start thinking about which of your favourite meals you will make.
Other groups
Do you not only want to eat with students but also with others? Then you can switch in the platform to the group Eet Mee. Here your find more information.