September 22, 23 and 24 is Nationale Burendag (National Neighbourhood Day), an initiative of the Oranje Fund and Douwe Egberts. A day for people to get together and do something good for each other and the neighbourhood. Eet Mee likes to participate by organising  Eet Mee op Burendag. With our cheerful invitation card you can invite your neighbours for lunch, tea, drinks and snacks or dinner.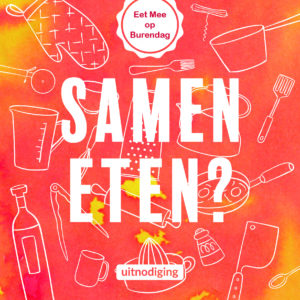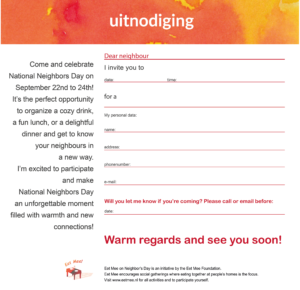 You can organize your activity on your own or with other neighbours. Invite people you would like to get to know better. The new neighbours, the nice cashiers at the neighbourhood grocery store, the lady who doesn't get many visitors, the status holders or Ukrainians who just moved into town, the students from across the street. Will you join in? It's bound to make your neighbourhood cozier.
Download the invitation card (English version) from the link below, print it, fill in your details, the date and time and what you are inviting them to. Put it in the mailbox to your potential guests or even better, ring the doorbell and give it in person. You can also save the invitation on your mobile phone, crop the picture a little and send it with Whatsapp to those you want to invite. In the accompanying text message you can write all the details. And please, don't forget to let us know us you're participating.
Print version Invitation Card Eet Mee op Burendag
flyer_injebuurt_Eet Mee op Burendag_ENG.v2